ANICAM SCANNING MICROSCOPE for 3D MEASUREMENT OF ANILOX ROLLS, GRAVURE ROLLS, PLATES AND SLEEVES
AniCAM 3D scanning microscope is able to analyse flexo plates, anilox rolls and rotogravure cylinders, allowing printers to know their real conditions and make savings by reducing press setup time and waste. The microscope's design allows the camera to be positioned both on flat material and/or on ceramic, chrome or steel cylinders. Every picture taken at different focus depths is combined by the software to create the 3D representation of the surface for which depth, opening, volume, dot shape and profile can be analysed.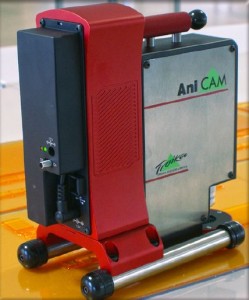 AniCAM Battery Pack – now available for even easier use!
Greater portability
Longer duration
Quick charge
Please find all technical details at the following links:
ANILOX MANAGEMENT SYSTEM (AMS)