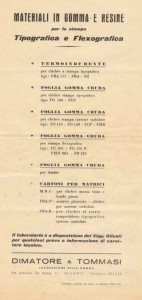 Ditom is a time-honoured name in the Italian graphic industry for the production of rubber flexographic printing plates. Established in 1939, the company has been operating in this sector for 80 years now. Starting out as a manufacturer of rubber compounds and matrices for stamps and letterpress plates, the company has grown over the years and is now a real landmark for the many companies in the industry.
In the 70s, the growing demand for rubber flexographic plates led Carlo Tommasi – who took a degree in Chemistry and a master at the Institut National de Formation du Caoutchouc in Paris – to create special compounds especially designed to be compatible with all ink types, thus entering the flexographic market at Italian and European level.
Invalid Displayed Gallery
The following compound and high quality rubber flexo plates are available:
.
If you would like to receive further information, please contact us at customercare@ditom.it