Aquaflex for Label Printing with Water-based Inks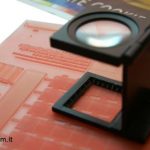 There are plenty of benefits to producing Aquaflex for flexo printing: suitability to all types of flexo inks, quick production, sharper nuances, excellent ink transfer, easy placing and registration, and a plate that does not swell.
The first great advantage of Aquaflex plates is their quick production: processing an Aquaflex Optima plate (1.14 thickness) takes 8-10 minutes for exposure and 10 minutes for drying. Aquaflex is ready for printing in 30-40 minutes because it does not swell during washing.
Aquaflex Optima has excellent colour density and therefore sharp nuances. To this day, 1% dot gain is between 3 and 5% in flexible packaging.
Optima has excellent ink transfer, releases ink very well and allows to minimize, if not eliminate, buildup downtime spent cleaning the plate. Furthermore, Optima remains secured to the double-sided tape and its edges do not swell, so that both placing and registration are greatly improved.
Another advantage recognized by several printers is that with Aquaflex you no longer need to adjust pressures. Plates last much longer, do not swell and resist to extra long runs.
These plates are suited to printing with all types of inks: water-based, solvent-based and UV.
If you would like to test the material or receive further details, please write to customercare@ditom.it