Flexo parts washer, 7 mistakes to avoid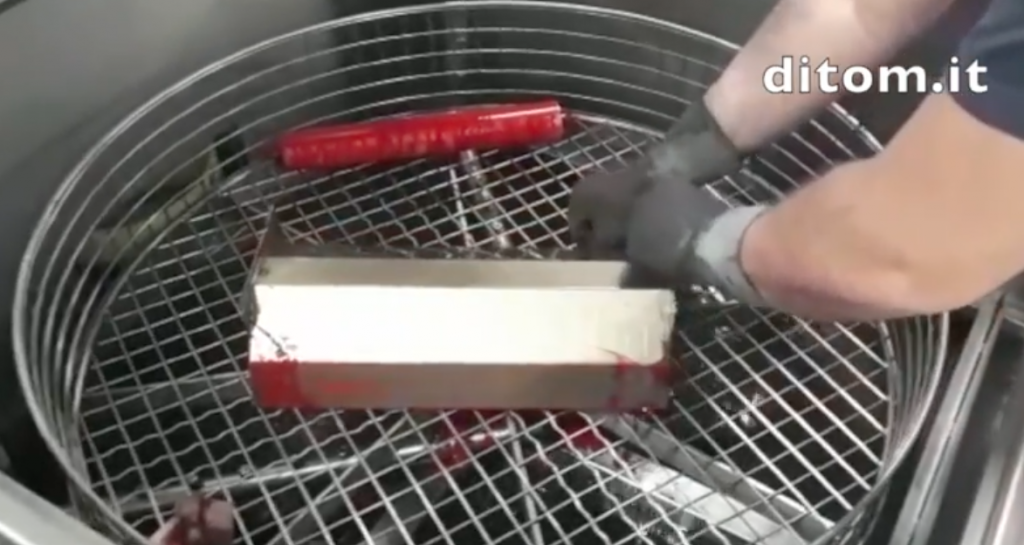 Based on the negative experience of several flexo printers, today we analyse everyday problems faced by printers because of generic cleaning systems, without falling into suppliers traps. Below the 7 MISTAKES TO AVOID when you are purchasing a parts washer for your flexo department.
MISTAKES # 1
CHOICE A GENERIC INDUSTRIAL WASHER
The typical sentence "the world is full of spray washers" is true! How many times I found in the warehouse of narrow web press customers, machines that have nothing to do with flexo printing: they rarely have jets and internal equipments capable of throughly cleaning trays, doctor blades and ink chambers from Flexo machines.
Latest generations trays – the rounded ones with not very accessibile folds – hardly allow an effective cleaning at the first washing cycle. So you end up with a parts washer that does not clean as it should and you end up hand- washing everything causing delays in production.
MISTAKES #2
YOU DON'T CHOOSE SPECIFIC PRODUCTS
A generic cleaning systems that works with a non-specific product for the flexo sector, unfortunately does not guarantee you a thorough cleaning.
The results ? At the end of the washing cycle, trays still have inks residues that you have to remove manually, exactly what you used to do when you didn't have a parts washer.
MISTAKES #3
DANGEROUS LIQUIDS IN YOUR PRODUCTION DEPT
In 2019, using hazardous liquids in your production department means being targeted by local authority and buried with burocracy documents, since the solvents used in industrial washing machines have a restrictive regulamentations regarding the storage of the liquids.
And it's better not to talk about their disposal…
Mistakes #3 will surely bring side-effects.
Please keep on reading and you will find them out.
MISTAKES #4
EXPENSIVE SUCTION SYSTEMS
When you have a washing machine that use solvents or dangerous liquids, you are forced to adopt expensive suction systems because of harmful exhalation and everytime local autorities stop by, you keep your fingers crossed that nothing will happen. So please be careful! When you see washing machines that on the back have bulky pipes connected to the suctions systems, ask more details about the liquids that you will use, because they may not be compliant to local regulations or they could bring expensive predispositions.
MISTAKES #5
LOOSE TIME PLAYING THE "Little Chemist".
Using solvents doesn't necessarily means to save money. It could mean costs and wasting time on distillation and disposal practices.
What if I tell you that there are long lasting detergents that you could use for months and "recycle" them further exthending their life? Believe me, it is worth to ask for more info about this aspect. Call me for details.
MISTAKES #6
USING CHEMICAL PRODUCTS.
Washers not specific for the flexo industry use chemical products that have to be disposed according to local regulations, causing costs to your business.
There are detergents suitable even for the most restrictive sectors, like the food industry, that have been designed to act on flexo, solvent base, water and UV inks.
Even on those inks with high pigmentation and rapid drying.
MISTAKES #7
RENT AN INDUSTRIAL WASHER, SO YOU THINK YOU WON'T HAVE ANYMORE PROBLEMS (…BUT YOU DON'T SOLVE THE REAL PROBLEM!)
Many customers regret choosing to rent an industrial washer….
I can understand why: avoid every maintenance procedures and headaches related to its disposal.
They think: "…so I don't even have to think about disposal, because the rent prices includes that, too!"
Yes, it's true. You don't have to think about disposal.
…but in most case, with what you pay for rental feel you could buy a new washer that will last a lifetime !
…..and the disposal it's not horrible as it seems to be, if you use the right products.
If what you always wanted is a color change without panicking for machine downtime, taking your time for clichés, pantons, papers and everything you really need for a perfect and quick start, I can give you the alternative that will let you forget the nightmare of dirty machine parts.
SEI STUFO DI IMPAZZIRE AD OGNI CAMBIO COLORE?
Una guida completa riservata ai responsabili di produzione che ad ogni cambio colore lottano contro il tempo e che ogni giorno affrontano tutte le difficoltà organizzative legate alla pulizia manuale delle parti macchina.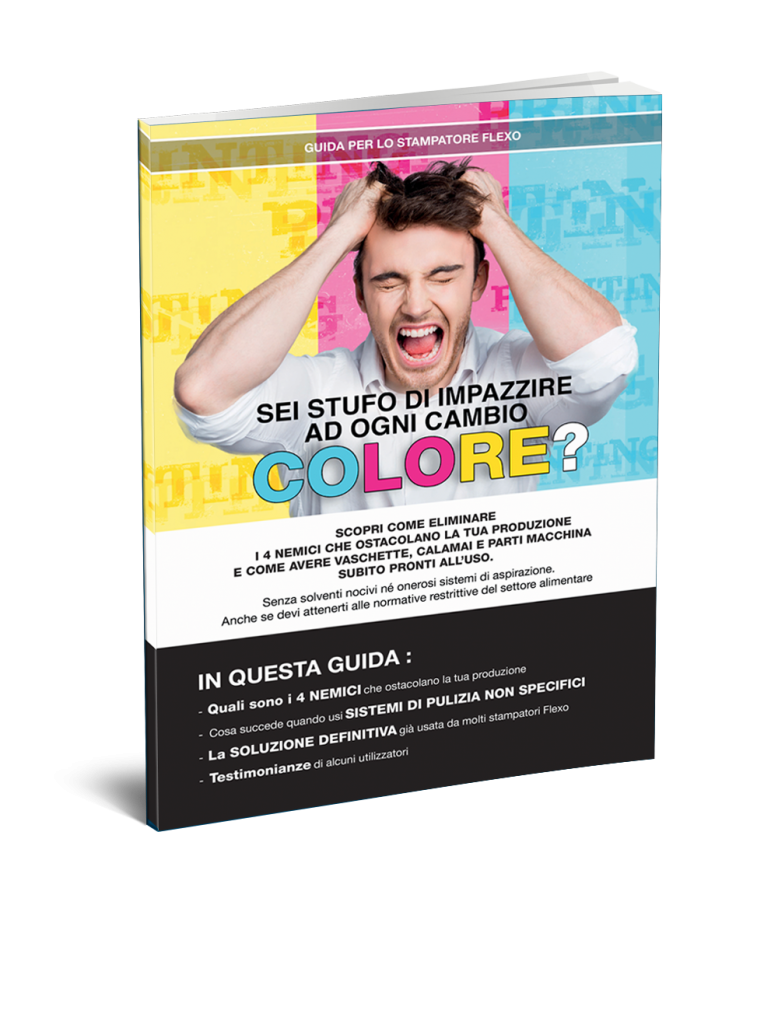 FIND OUT FEATURES THAT MAKES LINDA DIFFERENT FROM OTHER MACHINES IN THE FLEXO MARKET