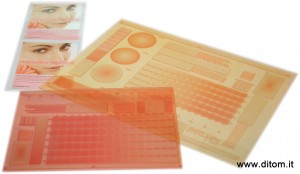 The use of water-based photpolymer plates has caught on and is gaining inscreasing popularity.
"Pure" flexo plates tha can be processed in water, like Aquaflex, have multiple advantages as far as plate processing and printing results are concerned.
First designed several years ago, water-based flexo plates have evolved over the years and now guarantee excellent printing results.
IDEAL FOR COMPANIES WHO PRODUCE THEIR PLATES IN-HOUSE
Aquaflex plates have an HD certification for their digital version and are ideal for plate trade shops seeking quality, speedy production and wanting to avoid solvent disposal issues.
ADVANTAGES FOR PRINTERS
With its flexibility and excellent ink transfer, Aquaflex is specifically designed for flexo printing.
These water-based plates are compatible with all ink types – UV-based, water-based of solvent-based.
Speedy production: 114-mm thick plates are ready in 25 minutes!
No waiting. The plates are ready for printing immediately after processing. There is no risk of solvent-induced swelling.
Easy production: specific automatic machines allow speedy and easy plate processing.
Excellent colour density in halftones and sharper nuances.
Water-based Aquaflex flexo plates release colour very well and enable to minimize – if not entirely eliminate – buildup downtime spent cleaning the plates.
Superior durability: Aquaflex plates allow extra long runs.
There is now a huge demand for water-based flexo plates in label printing and food packaging sectors, where special attention needs to be paid to printing components.
If you would like to receive further information, please do not hesitate to write us at customercare@ditom.it